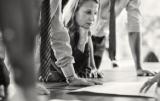 Companies striving to create and capture customer value must quickly realize that they sell more than just a product. Failing to do so forces a company into an unsustainable trap of price pressure and margin compression as competitors find ways to match new features and customer continue to negotiate on price. A more sustainable approach to creating true differentiation starts by gaining a deep understanding of the customer's value outcomes and how they make money and then creating solutions that align to the customer's business model.
Instead of worrying about product features, successful companies worry about how to create solutions that deliver measurable economic impact for their customer's bottom-line. These companies avoid the commodity trap by creating better ways to deliver customer value.
Case Study: How a century old manufacturer manages value offerings – not commodities
It would be difficult to identify an industry more mature than magnet wire. As a main component in electric motors and transformers, the industry has been around for over a century and all of the key players offer standardized products that basically define "commodity". However, as in many other industries, one or two industry leaders have been able to distance themselves from the competition by recognizing that they sell far more than just magnet wire. They sell holistic solutions that deliver incremental value to their customers. These solutions come in many forms - often a combination of services, technology, analytics, support, etc. that all surround a quality product.
Image caption: A full suite of services surround the core product: magnet wire.
As illustrated, this wire manufacturer doesn't only provide magnet wire, but a suite of services, including tech support, freight, inventory, delivery, and more. These practical and complementary services add real, quantifiable value to their core product offering. It also allows them to provide flexibility by mixing and matching various service offerings to meet the needs of each individual customer.
An example of putting their entire suite of services to work can be seen with one of the company's latest customers, a California based electric car manufacturer. While the electric car manufacturer could theoretically get the same quality magnet wire from half a dozen suppliers, they had a unique set of needs. The electric car manufacturer expected production to ramp up quickly which meant that they would not have the physical space to store enough magnet wire at their factory. They were also looking to add new models to their lineup which would require technical assistance to iron out production kinks and would also add to the complexity of their supply chain needs.
By leveraging their supply chain and warehouse network, this magnet wire supplier was able to offer the electric car manufacturer same-day delivery on every order plus other value-added services like technical support, custom reporting and custom packaging. To ensure the electric car manufacturer fully understood the value that they were receiving the magnet wire sales team quantified not only the savings of eliminating inventory, warehousing costs and scrap rates but also the impact that this level of service had on enabling the electric car manufacturer to increase productivity as they ramped up production thereby driving more top-line revenue.
The guarantee that the electric car manufacturer would always have the top-quality wire they need without having to worry about the logistics of storage or delivery solidifies the value of using this wire manufacturer over competitors.
However, creating value is not enough if you can't get the customer to pay for it. In the next post we'll share the importance of positioning and communicating your value by using a structured approach to offering development.
For help in determining just how much value you are creating for customers, contact us